My son, the student...
Buto'y first day in school, the whole story, in pictures...
Still sleepy... zzzz... Me, "C'mon get your ass up at maligo na tayo!" Butoy, "Daddy, tapos ng Courage the (Cowardly) Dog!" Tsk, not a good start it seems.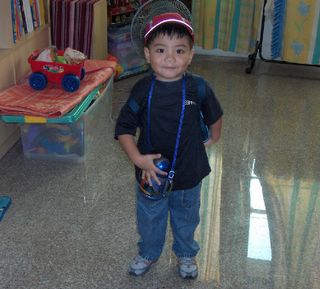 Look Ma, I'm ready for school! After much prodding, we were able to bathe the imp, feed him (roti prata with maple syrup, one of his paboritos), and put on the stuff his mommy prepared before she left for work, Butoy is ready for his rite of passage. Wohooo!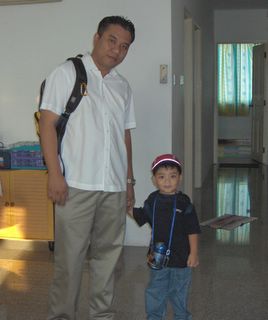 Best friends... That's me and my son. The paternal bond between us seems to grow stronger by the day. Especially when we are both playing our favorite computer games or when we are having a blast at the arcade playing Marvel vs. Capcom. But then, nagiging makulit na rin siya lalo na pag nag-aagawan kami ng remote ng TV. So after my turn at the shower and prepared my stuff (after finishing off his prata leftovers), off to the Chen Li Kindergarten we went, together with Tita Ria.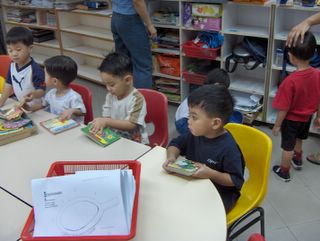 Butoy was apprehensive at first. He wouldn't let me leave kahit panay pa suhol ko ("Okay, I'm buying the toy you want..."). Good thing Shing Shing (opppsss Benedict pala) was there to help him settle down. You see them in the picture seated beside each other.
Ahhh, my son, the student. He's learning fast. He's going to be a smart (aleck?) kid. He better be, namulubi ako sa binayad ko sa school nya ha!