SG Reunion (sort of)...
Corazon Amores, a highschool classmate of mine and a good friend of my wife, was in town last week. Currently based in Medan, Indonesia, Cora was here to attend a training so we took the opportunity to bring her out for dinner last Sunday. It has been ages since we have last spoken so we tried to catch up on each other life's goings-on. To quote my email to our
class' yahoogroup
,
Not that I'm waxing lyrical here (on the chit chats and recollections) but it sure was a mix of nostalgia and joy to look back at how we all have grown (pounds,inches and all) since our high school days.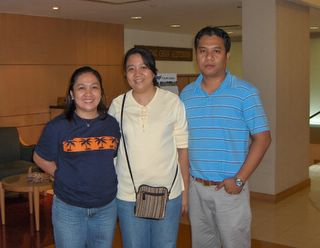 Sometimes one needs but a moment to ponder on the past, look at the present, gaze at what beckons and truly appreciate all the small things --- friendship, love, companionship --- and be thankful for what he is and what he has.