Pamilya Di-Magiba's Geylang home...
I have been working for the past 5 years here in Singapore and the experience has somehow humbled me in a lot of ways. I have learned to value kinship more than ever being far from my family (for the first 3 years I was here) and loved ones; to cherish friendship, old and new; and to put more trust in God and be thankful of His blessings. In retrospect, I count myself fortunate for having my family with me.
I have stayed in four different places here during the past 5 years. When I started working here, I was staying at this HDB flat in Telok Blangah which I shared with my sister and some friends (Mon and Michelle, and Allan). It was a couple of bus rides away from my workplace at Tiong Bahru and was just at the foot of Mount Faber (the view was splendictacularrr!). My stay here lasted for over a year when I had to go back to the PH (January 2002) as the wifey was about to give birth to Butoy.
I returned to Singapore around May 2002 and went on to stay at a Potong Pasir HDB (shared it with my sister and Marge), a stone's throw away from the Potong Pasir MRT station (which was still under construction when I arrived). During this period, I started working as a systems administrator for a client at Kallang Way (I was working for a service provider at this point of time) which was 15 minutes walk from where I was staying. Convenience is my middle name, so it seems *grins*.
Around June 2003 (after the SARS scare here had subsided), I brought my family over and moved to the Sunny Spring condo along Guillemard Road. It was a rather posh place compared to the HDBs I used to stay, complete with gym facilities, pools, and sauna. We stayed here for one year before we decided to move to Wing Fong Mansions in Geylang.
Ah, Geylang. It is what is Ermita (during it's heydays) is to the PH, if you get my drift. The place may be a tad raunchy what with all the girls plying their "wares" at Lorong 14, Lorong 12 and Talma Road, tsk tsk tsk. Temptations, temptations, temptations. But why stay here? The answer is full of "becauses" - because it's near our church, because I can take Bus 125 to work (10 mins walk to the bus stop), because Am's school is near, because it's 10 minutes away to Suntec City, because it only takes one bus ride for my wife to her work (Bus 70), and more. Convenience.
This is the view from outside the masters bedroom overlooking the National Stadium, Suntec City and the famed Singapore CBD skyline.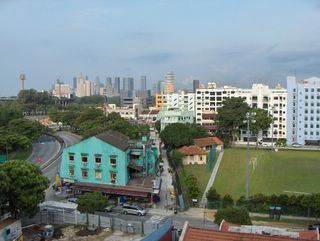 And this is how it looks at night. Awesome (though not in a Mount Faber kind of way)...