A family that binges together...
Give me neither poverty nor riches; feed me with food convenient for me (Proverbs 30:8).
A couple of Saturdays ago, Rizza and I brought the kids and Ria out for a short stroll at our usual weekend haunt at Suntec City. The kids had their routinary koi-feeding activity at the koi garden. They also went a-wishing at the Fortune Fountain with Ria in tow. Afterwards, we went for a whiff of fresh suburban air at the Sky Garden where the kids enjoyed the mini-playground.
Later, we headed down to basement 1 for the Fountain Food Court for our customary makan binge. Rizza had carrot cake (which is neither made of carrot nor a cake) and a couple of popiah, Ria and Butoy shared a plateful of chicken cutlet with fried rice, Am had her fave spring chicken with fried rice, but I was kind of feeling a bit stuffed so I went for a lighter feast --- kopi-c with kaya toast and two half-boiled eggs. Yum!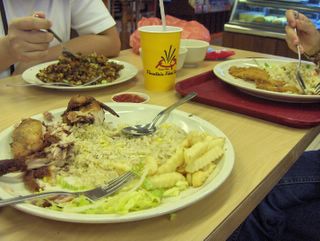 I used to frequent this Ya Kun Kaya Toast stall near Lau Pasat when I was still working for this company in the CBD area. They were serving the best kaya toast/half-boiled eggs combo this side of Singapore. Miss that, bigtime.