Bill Gates in Singapore...
The man is coming!
Bill Gates, Chairman and Chief Software Architect, Microsoft Corporation, Geek Extraordinaire, is coming to Singapore on the 1st of July. According to the MS Singapore website, he will be speaking
about the future of computing including latest updates on upcoming product releases such as SQL Server 2005, Visual Studio 2005 and Longhorn.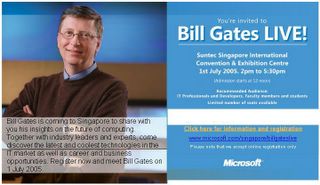 I have registered for the event hoping I'd get the chance to catch a glimpse of the man who has helped shape the information technology world to what it is today. I might even get lucky and have the chance to ask the man a question!
Also speaking in the event is Sim Wong Hoo, CEO of Creative Technologies, SH Goh from the Singapore WDA, Anand Shankar from Hewitt Associates, and Colin Png of Microsoft APAC.
Hate him or love him, Bill Gates will always occupy a special spot in the geek Olympus.